Lexus Dealers Long Island NY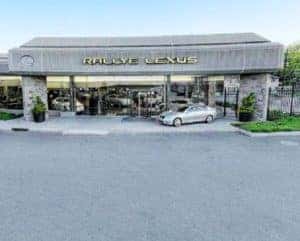 The Lexus brand is one of the most luxurious automobile manufacturers in the world. When you own a Lexus, you know you are driving a high-quality vehicle with all the comforts and features possible. When you are ready to shop for a new or used car, you want to choose one of the top Lexus dealers in Long Island, NY. Rallye Motors is the top Lexus dealership with plenty of new and pre-owned options to fit your needs and your budget.
Where Should I Shop for A New or Used Lexus?
When you want to choose a vehicle that exudes opulence, look no further than Rallye Motors. As one of the top Lexus dealers in Long Island, NY, we have a large selection of new and pre-owned, certified Lexus vehicles in all price ranges. You can shop online from the comfort of your own home. Visit our online catalog to view the many Lexus vehicles we have in our inventory. You will see photos of the car and learn details about the features. If you are ready to take the next step, request a test drive to stop in and check out the vehicles at our convenient showroom.
Tips for Choosing Your Lexus
The Lexus brand is synonymous with luxury, and you will find many excellent features to choose from when you select one of these top vehicles. View the available feature packages for each model to decide which options you prefer. We can order a car to your specifications, or we will help you find your ideal Lexus from our many available choices. You will want to visit our dealership and learn more about this exquisite brand of vehicle in person. You can see the latest Lexus models and take a drive in one of your favorite cars. We always have a vast array of vehicles and are one of the largest Lexus dealers in Long Island, NY.
Can I Trade In My Car?
We welcome trade-ins and are happy to assist you in getting the most value possible for your old car. You can get an estimate of trade-in value online. All you need to do is provide the details of your current vehicle, and we will give you a valuation. When you bring in your car for trade, all we need to do is an easy verification. In addition to trade-ins, we also offer excellent financing options. Our finance department will work with you to get you the best lease or purchase deal possible.
About Rallye Motors
Rallye Lexus is part of Rallye Motors, the 5th largest sales dealer in the United States. Rallye Lexus is "Elite of Lexus" for 23 years in a row and #1 in sales volume in the entire state of New York. As one of the top Lexus dealers in Long Island, NY, you can count on our dealership to provide you with high-quality vehicles and dependable service at reasonable prices. Visit our online website to start shopping for your next luxury car today.
bmw dealer long island ny  long island ny dealerships luxury car dealerships nyc luxury cars long island ny used luxury cars long island ny